Volunteering
As a volunteer at The Rescue Mission, your experience is vital to our success. Integrity, professionalism, confidentiality, and safety are key components of the volunteer program.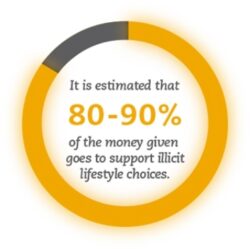 The Truth About Panhandling.
Panhandling is not the same as homelessness. Not all who are homeless panhandle, and not all who panhandle are actually homeless. In fact, most panhandlers are not homeless – and the money given to panhandlers isn't always used for what you think it will be.
Generosity and empathy should always be encouraged, and giving money to panhandlers sometimes feels like the right thing to do. But while it may ease the giver's own feelings of guilt, few stop to consider whether the gift is truly helpful for the panhandler. Our Real Change initiative hopes to educate our fellow community members on panhandling and homelessness, and help them find effective ways to help solve this growing problem.